Finally cool temperatures have arrived, fall is in the air, and it's time for fall outdoor decorating. Pumpkins, straw bales, gourds and leaves all make great items to use for decorating.
Whether you have a porch, or not Country Living has some amazing fall outdoor decorating ideas.
Craft Project Ideas:
"Fall craft projects like wreaths, gourds, garlands, and more will instantly add curb appeal to your home. If you're not into the classic autumn palette of oranges and browns, don't fear: There's truly something for every porch color scheme. How about a neutral-colored mini pumpkin patch to contrast with a bright front door? Coming right up! Corn stalks to complement a lighter setup? You got it!"
"Space won't be an issue for these fall porch decorations either. If your outdoor ares is on the smaller side, simply opt for a DIY crate display or basic burlap banner. Elegant, simple touches like a blanket-covered rocking chair or a chalkboard sign will add the desired flair. If you've got a more spacious wraparound, however, why not go all-out with plaid couch pillows and bales of hay? Ultimately, no matter what you're going for, there's a look here that's sure to fit your style."
For smaller areas: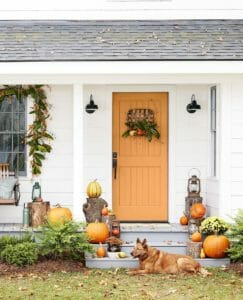 "Nothing says fall like orange, yellow, and hunter green. Use a small tobacco basket as a wreath adding magnolia leaves and fake gourds for accents. A magnolia garland, accented with dried bittersweet berries, frames the window. Round out the scene with tree stumps topped with classic pumpkins and vintage lanterns."
And to keep your yard looking great this fall, remember the landscape professionals at Stone Creek Landscaping. Stone Creek Landscaping in Marietta, GA, is a full service landscaping company, proud to help your property reach the highest visual potential.