Many homeowners want to know if it truth or myth to plant spring flowers after Easter. While some have been told throughout the years, that they should plant on Good Friday in the South. So, is there any truth to this?
According to the Farmer's Almanac, many gardeners. especially those in the South, swear that Good Friday is a good day to plant, or at least during the week of the holiday. And when you read comments on the Almanac's page, there are many readers that have been following this tradition for years with great success.
Good Friday Gardening: Does it Really Work?
"Certainly, there is no scientific evidence that planting on Good Friday makes seeds grow better or plants produce more fruit, especially given the differences between climates and how the date changes from year to year.  Good Friday can fall anywhere between March 20 and April 23 in a given year only serves to complicate matters. If you live in colder zones and you're timing your seed starting with the last frost dates and germination times, you may find that Good Friday is too early to put anything in the ground."
If it is warm enough to plant on Good Friday in your area, then it certainly can't hurt to give it a try!
All Truth and no Myth at Stone Creek Landscaping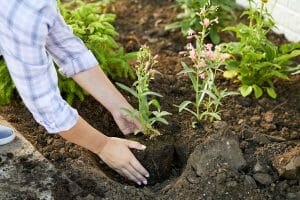 What is truth and no myth is that Stone Creek Landscaping is a full service landscaping company, proud to help your property reach the highest visual potential.
We offer lawn maintenance, landscape architecture design, planting and hardscaping by highly trained landscapers.
With over 32 years of experience in the landscaping business, Stone Creek Landscaping serves commercial and residential clients in the greater Atlanta area.