May is right around the corner, and it's time for more spring flowers to bloom, but what can you expect to bloom in Georgia this month?
Tip: For springtime color in your Georgia garden, plant bulbs, flowering shrubs and annuals. Bulb plants include rhizomes, tuberous plants and true bulbs and will reappear each year on your landscape. Flowering shrubs bloom for three to four weeks, on average, and are available in a wide variety of colors. Annual plants bloom for one season only, but the flowers can last longer than perennial blooming bulb plants. The information below is from gardenguides.com.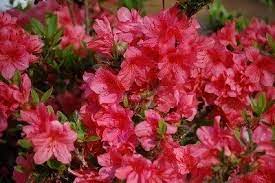 Azaleas
Azaleas are a common sight in many Georgia landscapes. The colorful azaleas are a deciduous shrub with clusters of colorful blooms. Most blooming times for Azaleas range during April and May, but some species begin blooming as early as March and others can bloom into the fall. The flower is native to Georgia that bloom in April and May include the golden yellow austrinum, the yellow, salmon or deep pink flammeum, the white to deep violet Periclymenoides and the pink prinophyllum.
Tulips
Late blooming tulip varieties — Tulipa — bloom during April and May in Georgia. Tulips also have a wide array of available colors and can grow between 3 and 30 inches tall. Plant tulip bulbs in the fall for April and May flowers.
Lily-of-the-Valley
Lily-of-the-valley — Convallaria majals — blooms in late spring with white, bowl-shaped flowers. Lily-of-the-valley grow from rhizomes, a type of bulb, and can reach heights up to 8 inches.
Spanish Bluebell
Spanish bluebell (Endymion hispanicus) is another late blooming flower during the Georgia spring. Also called the wood hyacinth, Spanish bluebells can grow up to 18 inches tall with broad bell-shaped flowers in shades of blue, pink and white. The flowers hang in clusters atop thick, green stems.
Larkspur
Larkspur (Dephinium spp.) is another annual bloomer that flowers in April and May in Georgia. The tall, stately spike plants bloom with big flowers in colors that include pink, blue, white and lavender. Larkspur prefers full sun, but can grow in partial shade.
Need help bringing color to your yard? Let the experts at Stone Creek Landscaping take care of all your lawn care needs.