Let's switch gears this week and talk about Memorial Day recipes. By now your yard is looking great for the neighborhood cookout, especially if you are using Stone Creek Landscaping, and it's time to think about the menu. We found a great article in The Washington Post with some amazing recipes for the weekend. Below are a a few links to the recipes that caught our eye! No matter how you are enjoying the weekend, stay safe and remember those who paid the ultimate sacrifice for your freedom!
Herbed Grilled Vegetables. Listen, don't leave side dishes as an afterthought. Using a grill basket and an herby marinade will make these the best grilled veggies you've ever had.
The Burger. Can't go wrong with a good burger! This one is classic beef, or you could try BBQ Pineapple Grilled Portobello Burgers, vegetarian Superiority Burgers, Black Bean Burgers, or even go for surf-and-turf Bacon-Stuffed Shrimp Burgers.
Grilled Eggplant, Zucchini and Poblano Ciabattas With Queso Fresco. Saucy sandwiches are a great addition to any grilling spread. Are they messy to eat? Yes. Is it worth it? Heck, yeah.
Lemon and Herb Chicken. Here's a gorgeous smoked chicken that has "beautifully bronzed and charred skin," writes Tim Carman.
Classic Grilled Oysters. These grilled oysters are just right, and come with a buttery sauce.
Happy Memorial Day Weekend from all of us at Stone Creek and enjoy the Memorial Day recipes.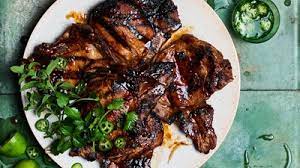 Stone Creek Landscaping in Marietta, GA, is a full service landscaping company, proud to help your property reach the highest visual potential.
We offer lawn maintenance, landscape architecture design, planting and hardscaping by highly trained landscapers.
With over 32 years of experience in the landscaping business, Stone Creek Landscaping serves commercial and residential clients in the greater Atlanta area.