With all our tips, and perhaps even our services, your yard is ready to host a fantastic 4th of July barbecue! But what will you cook? Well, today we have some great ideas for the perfect 4th of July gathering.
Burgers of course are a top choice for many patriotic celebrations, but Delish believes they have the recipe for the Best Burger! Check out these tips from Delish, that included everything from the meat you should buy to the temperature you should cook your burgers. What goes with burgers on the 4th? Why potato salad of course. Your guests will be fighting over seconds on this dish that gives you all the secrets for some amazing potato salad.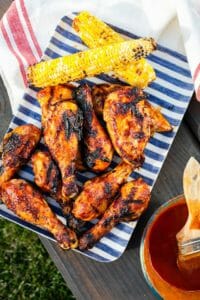 Not a burger fan? How about some delicious BBQ grilled chicken? This recipe will give you all the ins and outs on serving up the most savory grilled chicken. Watch those guests as they might try and sneak the leftovers to take home with them! And is there anything better with grilled chicken than mac and cheese? This Country Living recipe, turns a classic favorite up a notch with Ritz crackers and Ranch dressing!
Well, we are now hungry and ready to eat! No matter how you celebrate the 4th, we hope you have a safe one. And oh yeah, if you were embarrassed with your backyard, we can take care of that for you!
Stone Creek Landscaping in Marietta, GA, is a full service landscape company, founded by two lifelong friends in the spring of 2003.  While working for other companies, our founders saw a void in the quality and landscaping service available to homeowners and businesses. They felt that they could fill this void by starting their own company.