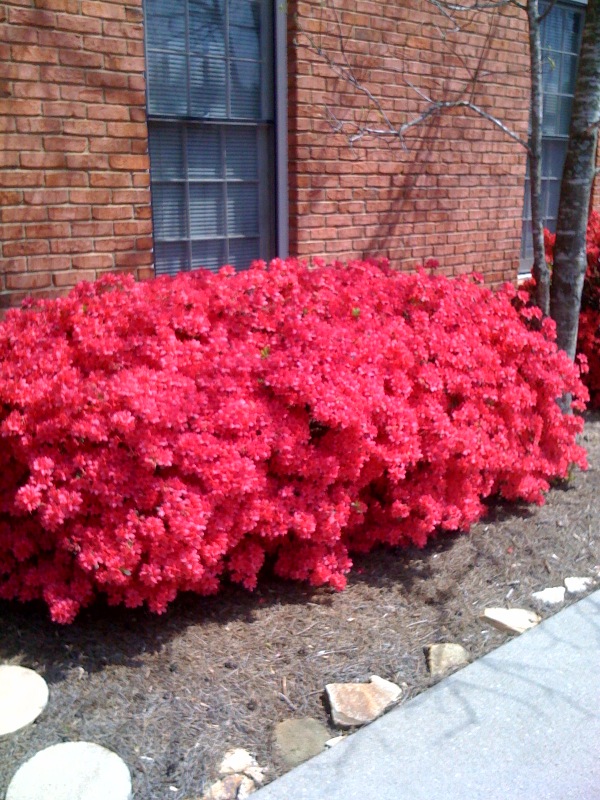 While these iconic southern shrubs that we love here in Georgia aren't blooming yet, it's not to late to think about their placement in the landscape.  For example, one of my customers in Marietta, has about six azaleas that, overtime, have become overtaken by some bamboo that the property owner has grown fond of; so they need to moved.  Fall and early winter are good times to transplant azaleas but, as long as unusually warm weather in February has not pushed out the new buds, transplanting will not harm your spring flowers.
Follow these easy steps to transplant.  First, with a sharp shovel dig a new hole about one foot wider and one foot deeper than the root ball of the azalea you are going to transplant.  Second,  using your shovel, cut nearly vertical incisions in the soil at least 12 inches and no more than 2 feet deep at  the drip line of the plant, now continue around the plant with your shovel and begin to pry the plant out.  Third, with the dirt you have removed from the hole along with a soil conditioner and a root stimulator, mix together and add to the bottom of the hole. Next gently set the plant in place  and fill with the remaining dirt.  Before you go packing away with that shovel of yours be sure to add plenty of water around the whole plant to force out  any air pockets that might be trapped around the roots.
Now, with all that being said, you can be a brave one and try and tackle this project yourself, or you can call Stone Creek Landscaping and we would be more than happy to help you with this project or any of your other landscape needs.  Until we meet again, happy transplanting!
Stone Creek Landscaping is located in Marietta, Georgia and serves the north Metro Atlanta Area