Come on, you know we have all had one. The neighbor that might not cut their yard each week? The neighbor who thinks the more yard art the better? Yes, chances are we have all either lived by one or have had one in our neighborhood. So what is a good neighbor to do?
We found some excellent tips on Gardenrant.com. We love the tips the author gives for "perfect privacy screening."
Permission
The author, Susan Harris, lives in a townhouse and faced many rules and restrictions. However, after some planning and investigating, she came up with the perfect screen.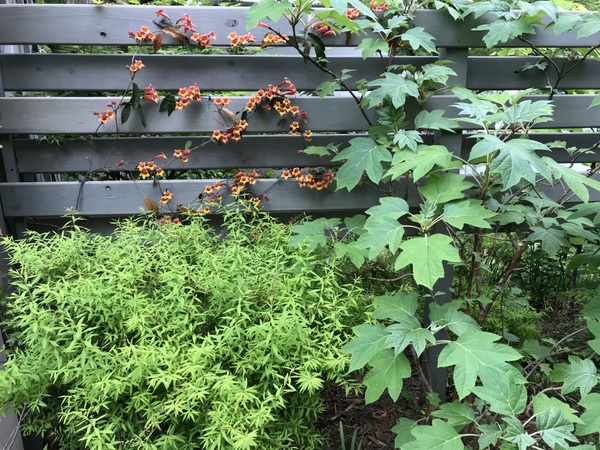 "It was allowed by the rules because rather than an imposing 6′ tall screen, it's just 3′ high and mounted 3′ off the ground, so it screens just where it's really needed. With the shrubs growing beneath it, I don't even notice the open bottom," she writes.
"The view above from my house shows 'Ogon' spireas and an oakleaf hydrangea, with Bignonia capreolata in bloom. The vine is so vigorous I bet it'll cover most of the screen by next summer."
She goes on to explain her plant choices:
"Luckily there's room on the other side of the screen to plant the new trees seen in this view from the interior sidewalk. On the left is a 'Rising Sun' redbud and on the far right, a Japanese maple. (Weirdly, its cool tricolor leaves – green, white and pink – quickly changed to all green. Oh, well.)"
If you find yourself in a situation like this one, try out the author's great tips. Not ready to go it alone? The call us at Stone Creek for all of your landscaping needs. Pro Tip: Fall is coming and it's time for preparation for the cooler months. Come back here for more tips and suggestions to make your yard just as wonderful in the fall!