The holidays are here and all of us at Stone Creek Landscaping want to wish you and your family a joyous holiday season.
What a year it has been for us! We weathered the dry and rainy days, unbearable heat and now the cold! And through it all, the best part has been our amazing customers! It's our pleasure to help you create dream yards, and maintain beautiful lawns. And we look forward to continuing to service your yards in 2020!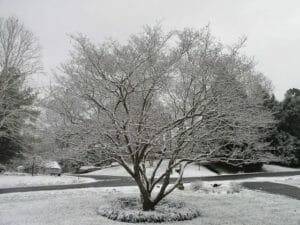 During these winter months remember there are still important items to complete. For example, blowing off fallen leaves. Leaves left on the lawn can become too wet, which leads to disease. If the leaves are not too thick or wet, mulch the leaves with your mower into dime-sized pieces to recycle the nutrients back into your lawn. If the leaves are too thick, wet, or matted down, rake them up and remove them.
And did you know it's important not to walk too much on icy grass? Yes, it's true, too much traffic on tender grass can harm its growth. So even though we are in Georgia, remember to stay off those lawns on frosty mornings.
Stone Creek Landscaping is your complete landscape solution regardless of your property's current condition.  Whether you're looking for maintenance, design and install, or just a splash of seasonal color, our skilled and professional crews are here to help. Happy holidays and best wishes for a Happy New Year!