Hard to believe, but this weekend marks the beginning of summer and yes, Memorial Day will be here. For many it means cook outs, days at the lake and even perhaps some yard work. We will get to that later, but let's discuss some Memorial Day fun that does not involve lawn maintenance.
We have some great ideas, but we loved the ones we found at Better Homes & Gardens. Here are a few of our favorite recommendations for some family fun!
Have Dinner Outside
Gather for a casual dinner outside to celebrate the unofficial start of summer. Keep the dishes and decor simple; bunches of fresh-from-the-garden blooms star on this summer table. Serve up dishes that showcase in-season produce like berries, asparagus, and greens.
Watch a Movie Outside
Memorial Day weekend is no time to be inside! Gather the family and set up an outdoor movie screen. It's easier than you think and is a fun Memorial Day idea you can use all summer long. Don't forget the popcorn.
Roast S'mores Over the Fire
Dessert is a must-have for any Memorial Day cookout. And nothing screams summer like a smoky roasted s'more. Set up an outdoor fire pit and all the fixings to make classic s'mores. Adults and kids will love this fun Memorial Day activity.
Pay Respects this Memorial Day
Pay tribute to those who served by visiting a nearby cemetery. Place flags and flowers on the graves and honor those who have fought for our country. It's a great way to spend quality time with family and honor the meaning and history of the holiday.
Go Biking this Weekend
May is National Bike Month. If you don't already have bikes for the family, late spring is a good time to invest in one you can use all summer long. Dress up your bikes with Memorial Day decorations like stars and streamers, then head out for a family ride. Add decorations to your helmets and wear red, white, and blue for a fun and patriotic ride around town.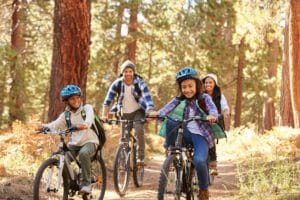 What's not included? Yard Work! That is where we come in. Let the experts at Stone Creek Landscaping take care of all your lawn needs. Not only will you thank us, but you will also enjoy the more free time you have on weekends to fire up the grill, take a walk and even a nap! Call us today at 404.647.4297.